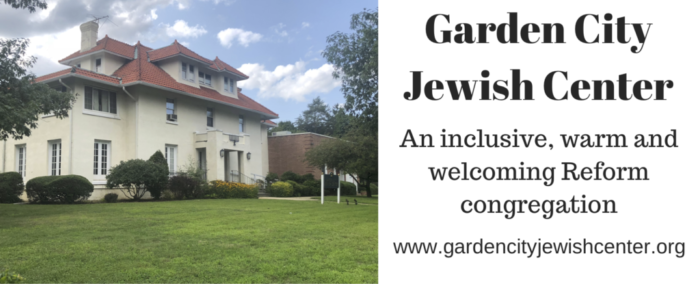 Garden City Jewish Center
Find Your Connection to Jewish Community
We are a friendly, inclusive, and welcoming Reform congregation.  Membership is open to all Jews, those interested in becoming Jewish, dual-faith families, singles, and students.
Religious School registration is currently underway.
For more information, email us at gcjewishcenter@gmail.com
Welcome to the Garden City Jewish Center
The Garden City Jewish Center is a thriving Reform congregation in which Jews of all denominations, dual-faith families, singles, and students are welcome.  Members from all over Long Island celebrate Regular Shabbat services on Friday evenings.
We have a "Sunday-Only" Religious School for Pre-K through Bar/Bat Mitzvah students. Active Sisterhood. Adult Education.
We have modest membership dues and no building fund.
The GCJC has member families from Garden City and many surrounding towns, including New Hyde Park, Rockville Centre, Mineola, Franklin Square, West Hempstead, Malverne, Lynbrook, Floral Park, Baldwin, Great Neck, Westbury, Garden City Park, Elmont, East Hills, East Meadow, Hempstead, Albertson, Valley Stream, Merrick, Manhasset, Williston Park, Bayside, and more.
For information, e-mail gcjewishcenter@gmail.com.
Garden City Jewish Center Religious School
The families of the Garden City Jewish Center come from many surrounding towns and villages, and the majority of them are from mixed or dual-faith backgrounds. People of all faiths are very comfortable with Rabbi Goodman's ability to reach every child and guide them to a higher level of understanding about Judaism and its teachings.  By Confirmation age (8th/9th grade), many students opt to continue studying with Rabbi Goodman, and are taught Comparative Religion, Bioethics and Ethics.
The Religious School calendar follows the Garden City Public School calendar year, ending in mid-May, and offers a way for busy families to meet their children's many sports, academic, and social obligations, while gaining all the necessary skills and information to meet the goal of a Bar or Bat Mitzvah.
Click here for more information about the Religious School.
For more information, email gcjewishcenter@gmail.com.